Braille Sensor and Debatable
As a company we have tried very hard to be innovative in the field of disability and we proud to say that we have made something that is going to help many people that have bad sight to be able to function like they had nothing wrong with them. With the the braille sensor we hope to also make more people be aware that there are people that have to live their life without knowing what is around them and not being about to look after themselves. There are some people that have more then just sight problems, they might have a disability with the mind, so just the thought of reading braille is hard. With this product they would be given a second changes in life, all because of the braille sensor.
Powered by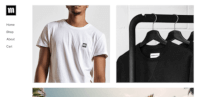 Create your own unique website with customizable templates.